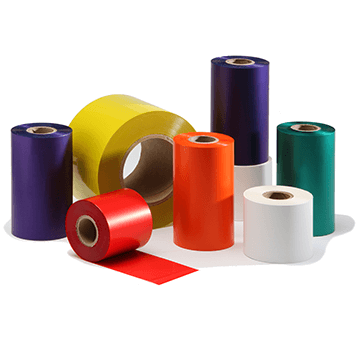 IIMAK FRD0803G2, DC-300 Resin, 24 Rolls, 3.15 in x 984 ft, ZEBRA XI, Z, Se, SL, Stripe, Forest Green Thermal Ribbon
---
IIMAK, FRD0803G2, DC-300 Resin, 24 Rolls, ZEBRA XI, Z, Se, SL, Stripe, 1" Core, CSO, Forest Green Thermal Ribbon, 3.15 Inches Wide by 984 Feet Long (80 mm X 300 M). Usually ships in 3 to 5 days.
Product Highlights
Designed for Use on Vinyl Stocks

May also work on some polyesters and polypropylenes. Actual application testing recommended.

Superior Durability and Resistance to Chemicals

Increase customer satisfaction by maintaining long term image readability in harsh environments, even when subjected to scratching, smudging, and cleaning.

Wide Range of Colors Available

Bring more attention to an item by offering colors for variable information that coordinate with pre-printed or corporate colors. Choose a color that contrasts with the background film making information easier to see.

Superb Print Quality

Improve the image of item being identified, especially important when information printed is used for branding or in consumer goods. Logos, fine lines, and small fonts print exceptionally well.

Ideal for Outdoor Use

Reduce cost, no additional lamination is needed to protect and maintain information when exposed to the weather. Colors are UV stable for 3 – 5 years.

BS5609 Certified

Together with approved specified base materials DC300 ribbons are BS5609 compliant. This global standard requires resistance to marine immersion (salt water), weathering (UV exposure), temperature cycling and abrasion.
Typical Applications
Drum Labeling

Electronics

Outdoor

Full Color Prime Labels
Label Compatibility
Durability
Abrasion Resistance

Chemical Resistance

Outdoor Durability
Technical Specifications
Film Thickness (μ): 5.7

Total Thickness (μ): 7.0

Melt Point: 110°C/230°F

UV Resistance: 3 - 5 years

Print Speed: 4 IPS

Print Energy: High
---
Share this Product