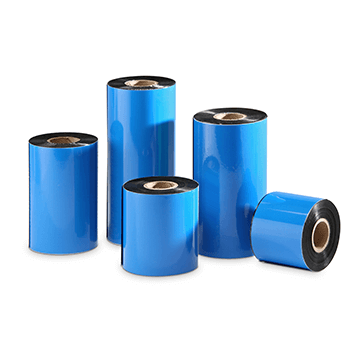 IIMAK FGA216HM, High Mark Wax, 12 Rolls, 8.5 in x 1476 ft, DATAMAX M, I, W class, Allegro, Prodigy, DMX, Black Thermal Ribbon
---
IIMAK, FGA216HM, High Mark Wax, 12 Rolls, DATAMAX M, I, W class, Allegro, Prodigy, DMX, 1" Core, CSI, Black Thermal Ribbon, 8.5 Inches Wide by 1476 Feet Long (216 mm X 450 M). Usually ships in 3 to 5 days.
Wax
Outstanding print performance and durability due to resin enhanced formulation

Prints at low energy settings preserving printhead life.

Ideal for use on a wide range of substrates including flood coated, matte, semi-gloss, and glossy.

For Flat Head printers
Description
A unique resin enhanced wax ribbon that prints well at lower energy settings yet yields higher durability than most wax ribbons while extending printhead life. Outstanding print performance on coated stocks as well as synthetic papers.
Storage conditions
By respecting the following storage conditions, we recommend to use the ribbons within 12 months after production date.
Keep away from light

Temperature 5-35°C (40-95°F)

Humidity 20-80%
Waste treatment
The rolls and their packaging allow an optimized waste management. For more information please contact us
Ribbon Structure
Layer 1: Ink

Wax- ink

Melting point: 62°C/144°F

Layer2: PET Film

Layer 3 : Backcoat

Friction coefficient: Kd<0.2
---
Share this Product